Art, freedom and tolerance. An ongoing legacy
The past helps us to understand the present. And the present-day freedom, cosmopolitanism and pace that defines us can be explained through the key figure of Santiago Rusiñol, who opened the town's doors to Modernisme and a bohemian, lively and entrepreneurial atmosphere. Our privileged location close to Barcelona, protected by the Parc del Garraf and bathed by the Mediterranean Sea has boosted our power of attraction, which is only growing stronger because we just don't stop: things are always happening here.
Iberian settlement
Modern day Sitges is founded on an Iberian settlement with the name of 'Blanca Subur'.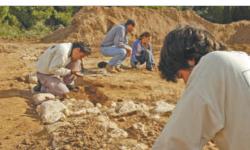 Miralpeix Castle
Miralpeix Castle is built on the site of the current town hall.
Recovery after wars and pandemics
Sitges recovers from the wars and pandemics of the 14th and 15th centuries and the population increases with people coming from France. Fishing is the main economic activity for people from Sitges.
Catalonia and trade with America
Catalonia obtains permission to trade with America. Many people from Sitges come back rich and build new houses or renovate their old houses.
Santiago Rusiñol settles in Sitges
An important year: Santiago Rusiñol moves to Sitges and the town becomes a focal point for the modernist movement. His house and workshop, the Cau Ferrat Museum, is one of the town's main tourist attractions.
Charles Deering visits Sitges
The north American businessman Charles Deering visits Sitges and funds the construction of the Palau de Maricel, an architectural gem which sits alongside the Cau Ferrat Museum in the Racó de la Calma.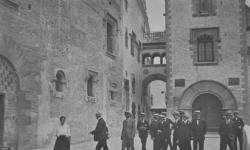 Hotel Subur and Hotel Terramar
The first large hotel dedicated to tourism is opened: Hotel Subur. The Hotel Terramar would follow it in 1933.
The first edition of the Sitges Film Festival
The first edition of the Sitges Film Festival, one of the most prestigious film award ceremonies in Europe, and the first in the world dedicated to Fantasy Film.
Port d'Aiguadolç, Sitges
Sitges' Port d'Aiguadolç begins operations, one of the largest marinas in the Mediterranean.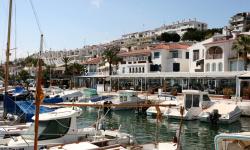 Barcelona Olympic Games
The Barcelona Olympic Games and the opening of the C-32 motorway are significant economic and tourist turning points for the town. Hotel Melià Sitges' auditorium was also opened this year.
Certified Biosphere Destination
Sitges is added to the list of sustainable Certified Biosphere Destinations by the Responsible Tourism Institute, linked to UNESCO.