Sunsets in Sitges
We're sure that many of you are sunset collectors. It's a very special moment, which ends the day and begins the night and that, in the case of Sitges, has the sea as a mirror and a reflection. It's something you can't miss. In this post we explain where to see the best sunsets in Sitges.
The Pantone of sunsets is always exciting. From blue to gray and pink, from pink to ocher, from ocher to orange and from orange to red and dark gray. In Sitges, that Pantone isn't different, but what is, however, is how these colors are reflected on the sea, how the palm trees and boat masts cut across the sky and how the church of Sant Bartomeu and Santa Tecla marks this skyline like a photo negative.
And where to see the best sunsets in Sitges? Well, to enjoy the best evening picture postcards in Sitges, there are different locations that will thrill even the most reluctant (look for them and you'll find them). An easily accessible one, with the option of even experiencing it with your feet in the sand, is the one you can enjoy from Sant Sebastià beach, one of the most popular beaches in Sitges and one of the most frequented by the locals. From this location -the ideal place is on a level with the Sant Sebastià hermitage- the Sant Bartomeu and Santa Tecla church lies to the right, at the end of a curve where the old town seems to want to climb up to the bell tower.  In front and occupying the entire left margin, the sea, which makes the Pantone that we mentioned earlier lend the water a steel blue color with white foam trimmings.
Another option is to enjoy the sunset from the square of the Sant Bartomeu Church itself or its iconic and busy access stairs from the seafront promenade. A great atmosphere is guaranteed and depending on the day, with the added bonus of the waves ensuring the image is sprayed with sea water.
If what we're into are greater heights and perspective, we have a lookout for the occasion. We're referring to the Levantina viewpoint, located in the upper part of the housing development of the same name. To be more exact (google maps will take you there), you will have to head to Trinitat Avenue. From there, Sitges at your feet will melt into gold with a spectacular swooping sunset.
And of course, there is also another more immersive option...enjoying the sunset from the sea. For this, we have a couple of different alternatives: on a paddle surf board, on a kayak or aboard a boat (there are several companies that offer the possibility of renting boats without a license).
There are many options, as you can see. And the best part is that we're talking about a show that gets extended every single day…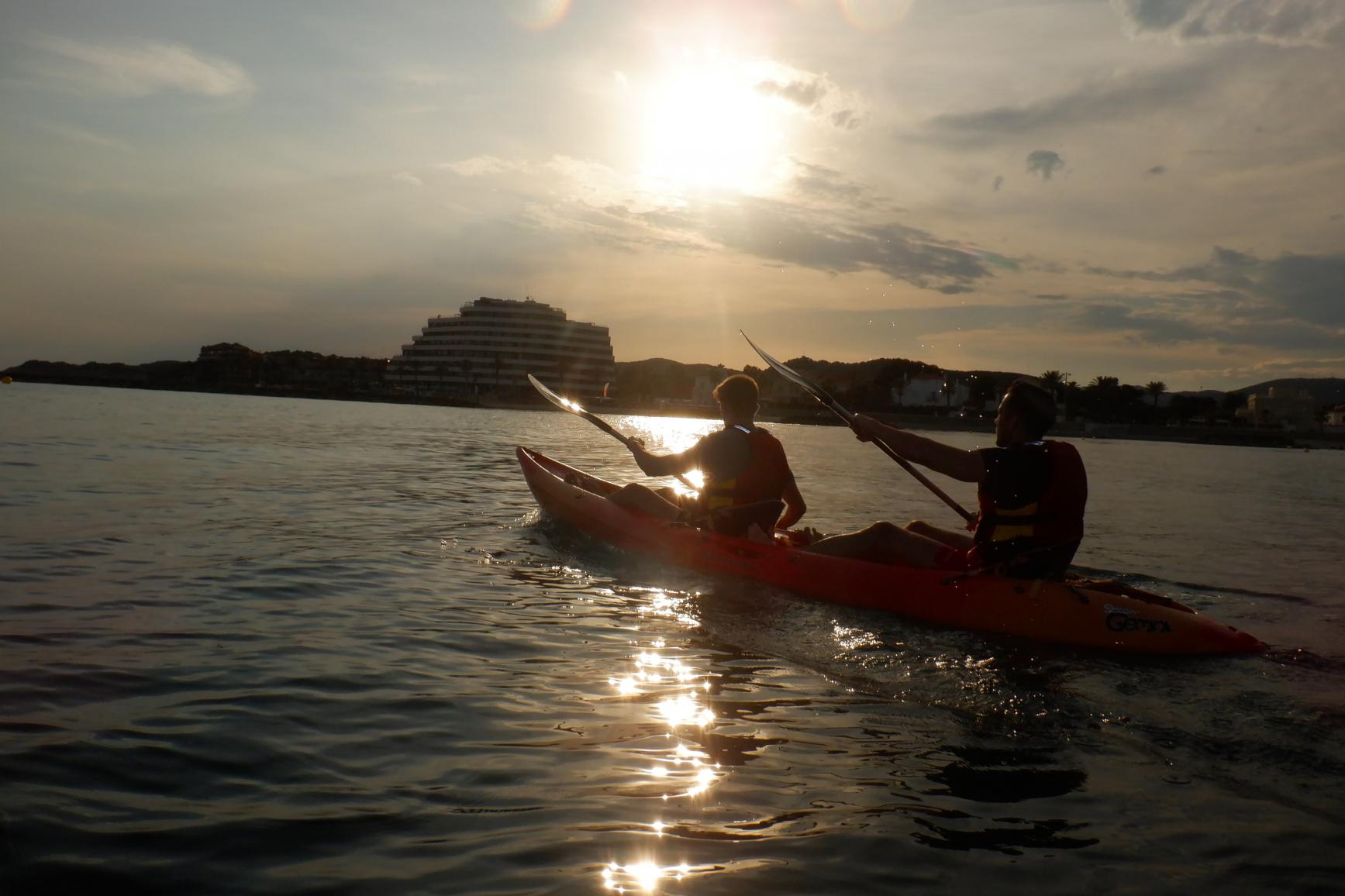 Foto: www.nootka-kayak.com