You Seriously Have Never Seen the Sitges Children's Carnival?
Sitges' Carnival is an immaterial (and material) legacy of joy, color and rhythm. Everyone has a great time here. And both grown-ups and children alike are the protagonists here. That's why we insist that no one should miss Sitges' children's parades. And no one means no one!
Sitges' Carnival is a tradition that almost perfectly illustrates the personality of this town and its people: fun, freedom, colors (many, all of them), music, rhythm (day and night) and hospitality (the more, the merrier). And like any good tradition, we all enjoy it, we all participate, with the family and on our own, big and little ones. That's why we want to talk to you today about an event you simply cannot miss: the children's carnival in Sitges.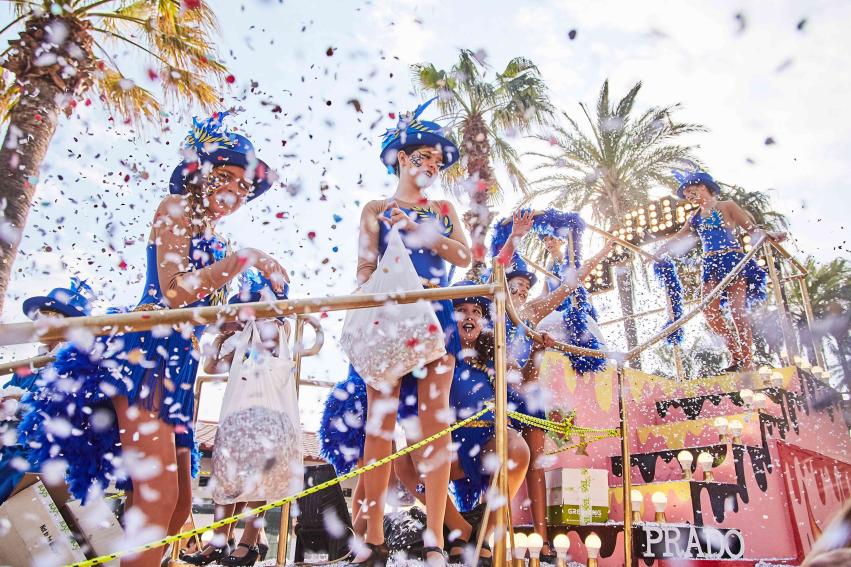 Practical and service information to get started: you have two options and two opportunities to see the children's parade: Carnival Sunday and Tuesday at noon. A fantastic plan in both cases. A fantastic plan on Sunday for the 'Rua de la Disbauxa': you can enjoy the floats, costumes and dances of the little ones at 12 noon, then eat at one of Sitges' restaurants, go shopping (of course, we don't close on Sundays) and get a seat to watch the grown-ups' parade from seven in the evening onwards. Yes, a fantastic plan no matter how you look at it ;) Sunday's not good for you? Well, on Tuesday we do a repeat with the 'Rua del Extermini': the children's parade also at noon and then, in the evening, at nine o'clock, the grown-ups' parade.
One of the people who knows Sitges' children's carnival best is Silvia Paretas, one of the coordinators of the Casino Prado Suburense' float and its Children's Queen's 'colla' or troupe. Silvia has no doubts when asked about what those who come to see the midday parade are going to find: "Without a doubt, they're going to see a spectacular show". A show, she adds, "in the street, with lots of color, well-coordinated and executed, with music and dance, appropriate and designed for the ages of the participants".
Silvia admits that what she likes most about Sitges' children's carnival is the commitment of all the boys and girls who participate: "They come to rehearsals highly motivated, they help each other, they are very engaged, and this shows in the final result; they love the carnival and the values it represents, and at the end of the day that's the way to create a youth pool and guarantee the continuity of this tradition that is so very Sitgetan".
Regarding the Children's Carnival Queen, Silvia recalls that she embodies precisely those values: "Super positive attitude, congeniality, rhythm, enthusiasm and companionship; it's not just dancing, it's much more than that".
In case you have your doubts, there is no children's king. In fact, the only King of Sitges is Sa Majestat Carnestoltes, the Carnival King. A King and two queens. Yes, because in Sitges we like queens… And we like the way they add rhythm to the Carnival.
You can see the Queen of the grown-ups in both of Sitges' carnival parades: the 'Extermini' or 'Extermination' parade, on Tuesday, and the 'Disbauxa' or 'Debauchery' parade, on Sunday. In addition, you have a wide range of carnival activities, from 'Larder Thursday' to 'Ash Wednesday', which you can consult in this year's program.
So we'll be waiting for you at the Carnival. Come early and leave late. Or don't leave at all, you are always welcome here. And you know it;)

Related topics
Agenda relacionada
Temes relacionats