Discovering Sitges' coves by kayak
The sea is like a Carnival parade. Always beautiful and exciting to see from the outside. But from inside... from inside it's a different story. And one way to experience it is with a kayak and in Sitges, discovering unique, hidden and very special beaches. I mean, what you would call a perfect plan.
'Jaume, what's the name of the route we're going to cover?' 'Coves of Sitges'. And the route makes good on what it promises, because departing from Les Anquines Beach and heading towards Vilanova, we sail past some of the most beautiful beaches and coves in Sitges: Home Mort or Dead Man's Beach, Desenrocada Beach or Xica Cove. All of them are sandy embraces scattered along a spectacular stretch of limestone cliffs known as 'Els Colls i Miralpeix', which is part of the Natura 2000 Network. In this area we can also discover (and even venture inside if sea conditions permit) caves like the Cave of the Giants (named for the two parallel 'columns' that guard it) or the Cave of the 'Bufador' (Blower), because of the water siphon that is produced at times by the waves themselves.
Let's get back to Jaume, who you haven't been introduced to yet. Jaume Pujol is the man in charge at Nootka, a company that has been offering  guided excursions up and down the coast of Sitges since 2004. The woman in charge is Rosa Planell, who is responsible for logistics and makes everything easy and motivating. Jaume is the one who accompanied us on this route, but beforehand he also gave us some valuable advice on how to paddle and control the canoe easily. A basic premise: "Kayaking is like riding a bicycle only out at the sea. You learn fast and have a lot of fun."
Those of you who have already gone kayaking are all aware that the experience is unique: you and the sea, following your own pace and its. With a breeze on your face and an unparalleled feeling of freedom, that you are breathing life in deeply. The beauty of it is that during this route, this universal feeling is combined with the natural beauty of the Home Mort or Desenrocada Beaches -only accessible by sea or on foot- or the 'Cave of the Giants', with its turquoise waters and ideal for snorkeling in summer.


The kayak route around the coves of Sitges is approximately 3 hours long. Without a doubt, it is one of the most recommended and most popular. The other route is called 'Punta de Sitges' or 'he Sitges Point', ideal to enjoy with children, and it consists of sailing along the town's waterfront, from Les Anquines Beach, where Nootka is located, to the Sant Bartomeu Church.
By the way, the excuse 'I'm out of shape' or 'I get tired too easily' doesn't fly here. Remember that Kayaking is like riding a bike...you set the pace, like always when you're in Sitges.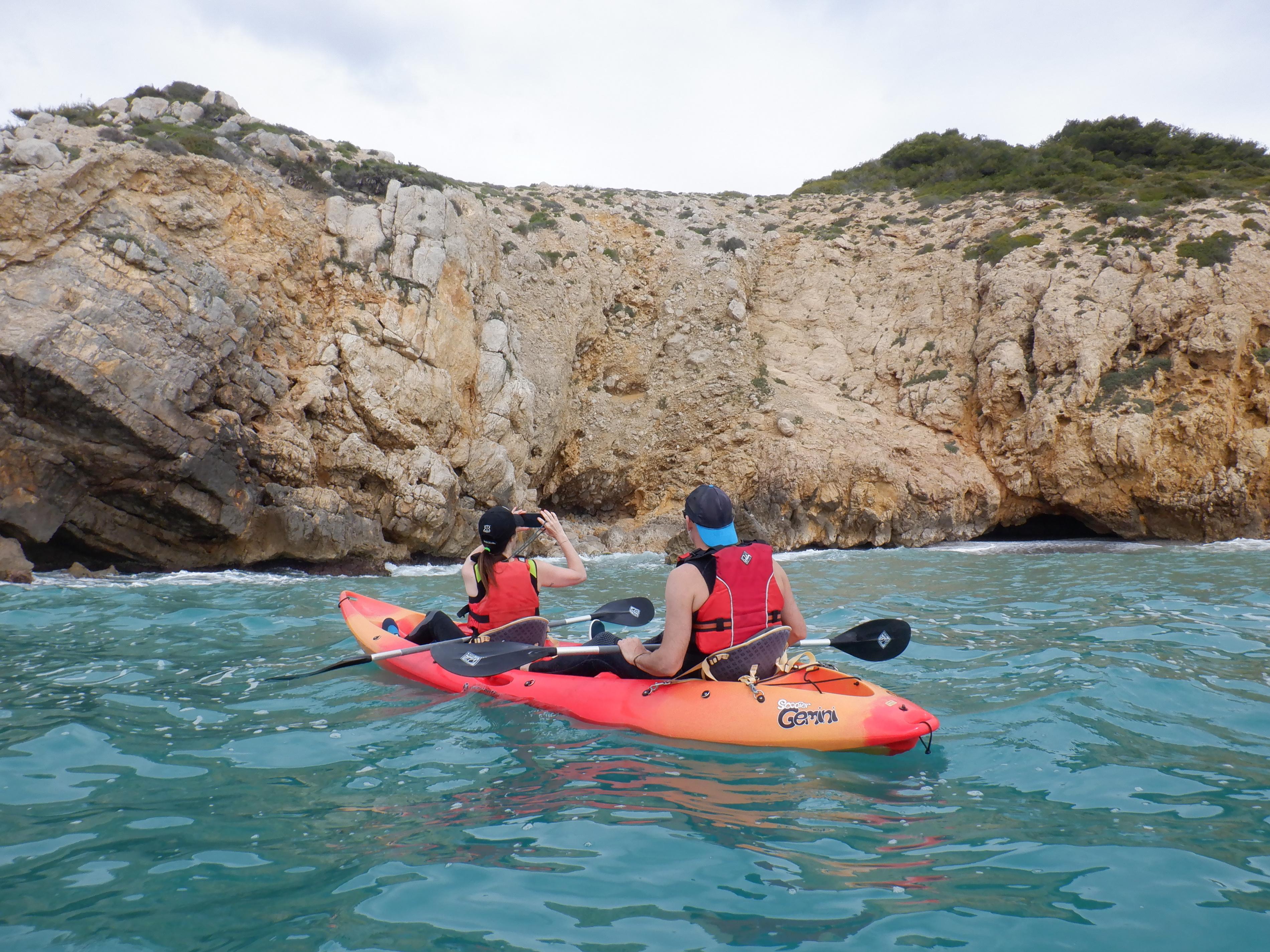 Comments
Bon dia, per activitats nàutiques a Sitges podeu consultar aquest enllaç:

https://www.sitgesanytime.com/ca/que-fer/turisme-nautic.htm

Salutacions cordials,

Hola, som mestres d'una escola, sobre unes 20 persones, i estem interessats en fer l'activitat de kayak el 30 de juny a sitges. Hem podríeu passar informació de preus i disponibilitat?

Gràcies