There is But One Queen... and She's the Queen of the Sitges Carnival
The Sitges Carnival has its king, King Carnestoltes. He's really famous and really popular. But listen up, we also have a queen. And the Sitges Carnival Queen dishes out a lot of orders. She's totally zany and very empowered: she orders people to laugh, she orders people to have fun and she orders people to take to the streets again dressed in impossible costumes. And we're so looking forward to following orders! God save the Queen!
So yes, we love the monarchy of 'disbauxa' (Catalan for 'debauchery'), of surprise and unpredictability. We are faithful subjects of royal provocation and sovereign amusement. Which is why we love our Carnival rulers so much. Rulers, in the plural. Because both of them reign here, him and her. The King's shadow is long, but the thing is that the Queen is into the sun. And she lets herself be seen. And she makes herself be noticed. And we love it.
The Carnival Queen changes every year. Her regency is so intense (and so crazed) that it's a good idea to rotate. The monarch's identity is kept secret until she is presented in society. This year, the mystery will be unveiled on Saturday, February 19th at Sitges' Casino Prado. So starting then, and continuing for a week, she and her spouse, Carnival King Carnestoltes, drive Sitges wild with the most spectacular parades in the Mediterranean (you have to see the 'Extermini' -Extermination- and 'Disbauxa' -Debauchery- parades at least once in your life). In addition, both of them visit schools, nursing homes and the municipal food market, and preside over the activities scheduled in the program. A comprehensive calendar that you can check out in the 2022 Sitges Carnival program.
Ans since we still don't know who the new 'Queen' is, we wanted to talk to Eva Martín, who was the 2007 Carnival Queen. This journalist, "fond of travelling, with ants in her pants and very talkative", recalls that "it was one of the best experiences I've ever had". And it really was, she points out, "because I decided to live it intensely, throwing myself into the role but being the center of attention: I wasn't going to be a wallflower queen". And she certainly wasn't. To begin with, she asked for the floor after being presented at the Cap de la Vila, something unusual. There, in the very center of the Square and with Carnival King Carnestoltes beside her, she was very explicit: "This year, he's not the boss, we both are". It was her way of denouncing a historical comparative grievance. And the Queen began to give orders: she asked for her float not to be too elevated, but to be as 'low' as possible to be able to interact with the people. The result was a giant crocodile with a catwalk. In addition, she rejected the concept of a "Victoria's Secret type" costume, so that both in her daytime and nighttime outfits "we aimed more for character than for spectacularity".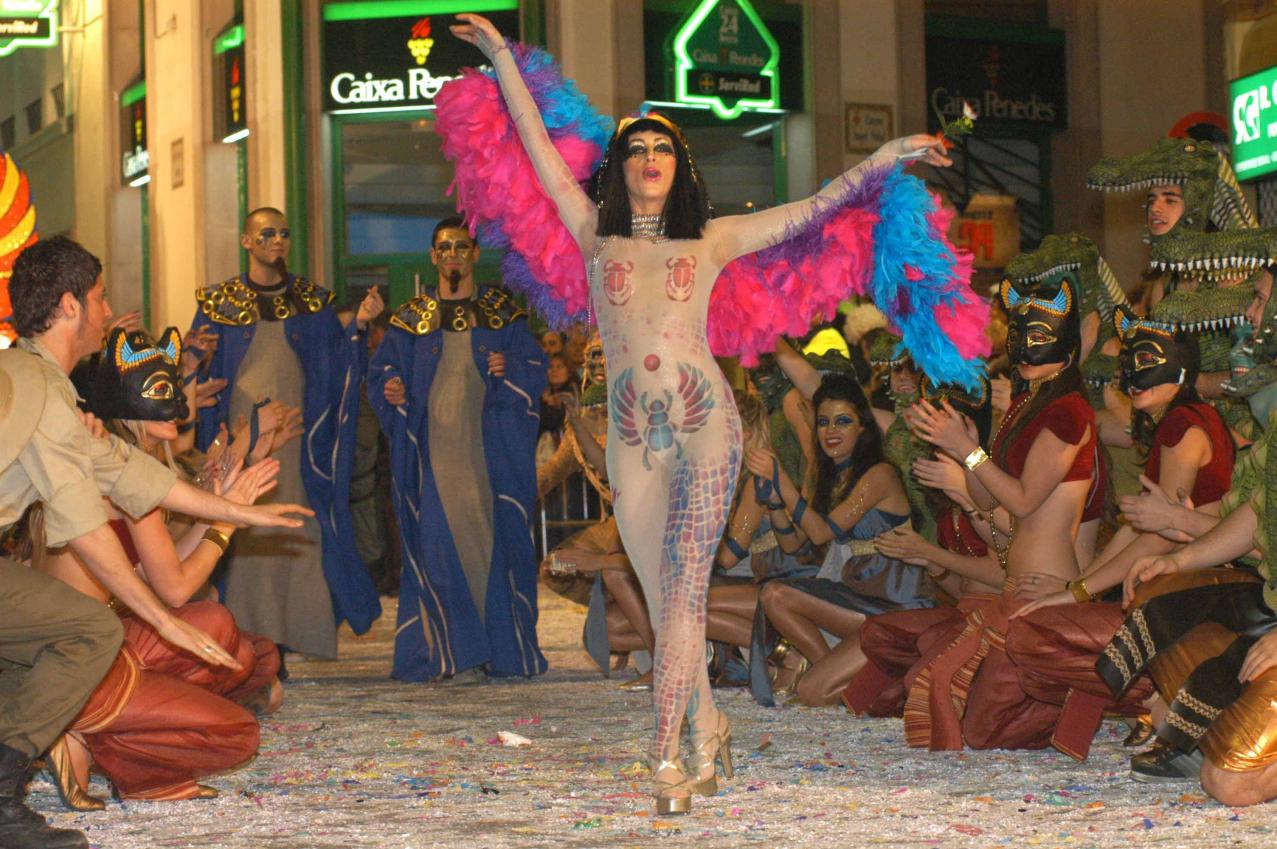 Eva is crystal clear on this: the Sitges Carnival Queen is a key figure "because she's the Queen and because her attitude is contagious". In addition, she emphasizes that "Sitges also gets you caught up in the role, because over the course of these days, everyone is at your service, they love you and help you with whatever you need; that contact with the people is the best part of it all, without a doubt". The 2007 queen couldn't forget others who paved the way before her, like Pitu, who wasn't allowed to appear topless and had to wear nipple shields, or Lidia Egea, the first to parade naked with a body painting.
To appreciate the transcendence, relevance, and the impact of being Sitges Carnival Queen, all you need to know is the name given to those who were Queen and who get together to remember it: The Eternal Ones. Could it be any cooler? Come on, don't even think about it, and come follow the orders of Her Majesty the Sitges Carnival Queen. Getting bossed around has never been so much fun;)