Sitges Also Has Its Own Gin (and It's Really Good)
Sitges is full of colors. And many flavors. For example, a classic aromatic gin flavor, with herbal notes and a hint of citrus. It's called Paó de Sitges and is a spirituous liqueur made from botanicals from the Garraf Park and promoted by a husband and wife in love with Sitges, its atmosphere and its energy. Good vibes, good gin.
Local herbs, global spices. That's the combination of botanicals that give its full body and depth to Paó de Sitges gin. Local herbs including rosemary, lavender and thyme, to which we add another indigenous element: honey from the Garraf region. Added to this Sitges cocktail are ingredients like juniper, coriander, Thai lime leaves, peppercorns and lemon verbena.
Behind this combination of botanicals is a restless and smiling husband and wife team: Ed and Emily, who were reminded by the pandemic, like many others, that dreams cannot be postponed. And from thinking about creating their own gin, they went on to amass and experiment with up to 55 previous recipes. And they decided on one. And they gave the result and the new gin a name: Paó de Sitges ('paó' is Catalan for peacock). "The name is because we are fascinated by peacocks, with their colorful and exuberant plumage; and it is precisely this color and energy that reminds us so much of Sitges, equally vibrant and extroverted".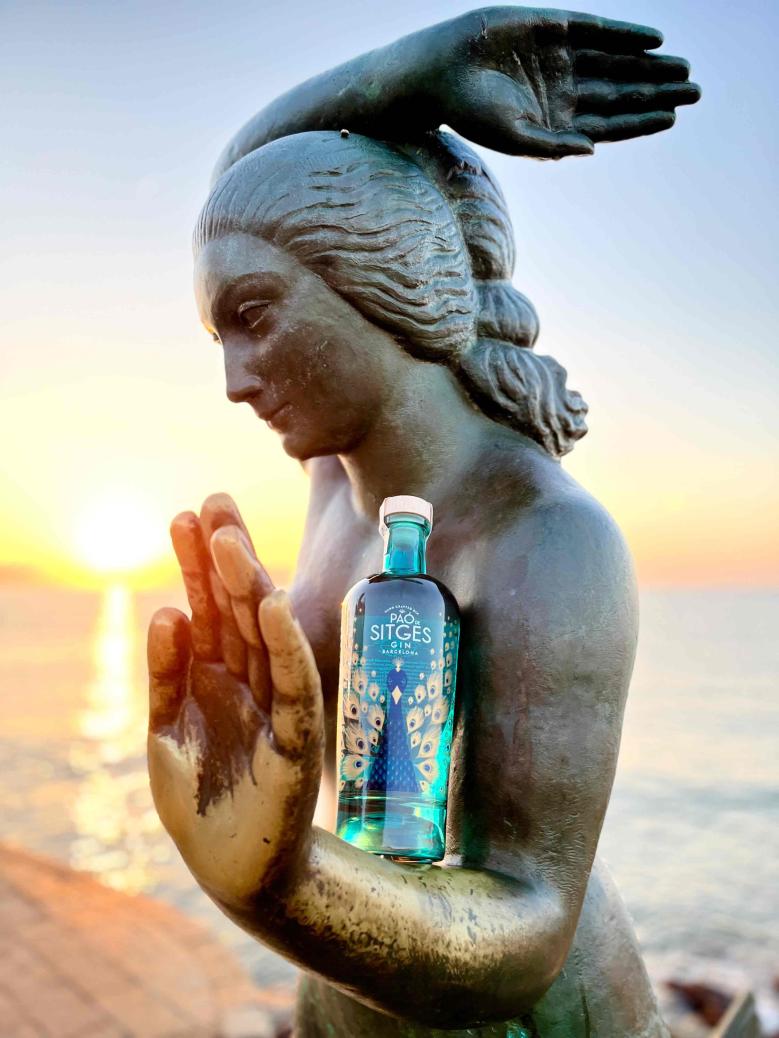 Ed explained the origin of the name to us as he gave the final instructions to the workers in charge of shaping the store they have opened on Carrer Major, in the heart of Sitges' old town. "It will be a store, but also an educational and experimental space, where we will offer premium workshops where participants can learn the art and alchemy of distillation. Using our copper alhembiques you can craft the cutting-edge cocktail ingredients Hydrosols, which are created by distilling botanicals in mineral water before adding them to a variety of cocktails. This more subtle and delicate way of achieving flavor is being pioneered in the Asian bar scene by establishments such as Native, Analogue and Argo and by Fátima León in México". 
These workshops -which can even be gifted to everyone you choose- will be joined by others centered on gastronomy and art, "because we want this to be a cultural space as well". Those interested can find information and register on the website paodesitges-gin.com. An important detail: the workshops will be offered in several languages: Spanish, English, German and French.
As is the case with flavors, there is no explanation that can replace their tasting. But to serve as a guide and motivation to try this gin, Ed himself defines it in his own words: "It has an aroma and flavor that swings between herbs and citrus; we're talking about a classic handcrafted gin, where nothing is added after the distillation process".
Sure, sure, you want to try it right now. Well, here's some service information: besides being available at the store on Carrer Major, you'll also be able to try it at different hotels in Sitges (like Sabàtic, Me Sitges Terramar or Dolce Sitges) and at a dozen restaurants around town. The idea is to gradually expand its distribution network to reach establishments in Barcelona and other Spanish cities, as well as European (starting with Poland and Italy) and Asian countries.
Despite the fact that the idea is for Paó de Sitges to cross borders, Ed and Emily insist that it is a gin born in Sitges and inspired by Sitges, "which is a very social town, very open and approachable, with people from here and there, international and cosmopolitan, open-minded and creative". Everything really is much easier with ambassadors like this!
By the way, if you come to visit us, in addition to tasting this local gin, you can also enjoy other spirits that boast Sitges' body and soul. For example, that golden and fruity delight that is the Sitges Malvasia wine. Or craft beers, such as La Sitgetana or Wylie Brewerie. In every single case, with or without bubbles, a highly recommended pairing with these drinks is to accompany them with local dishes which include xató, 'espigalls' or Sitgetan-style rice.
And yes, we know, you're getting the urge to come eat and drink. Well, come on, we have plenty of good food and beverages around here ;)