Garraf Beach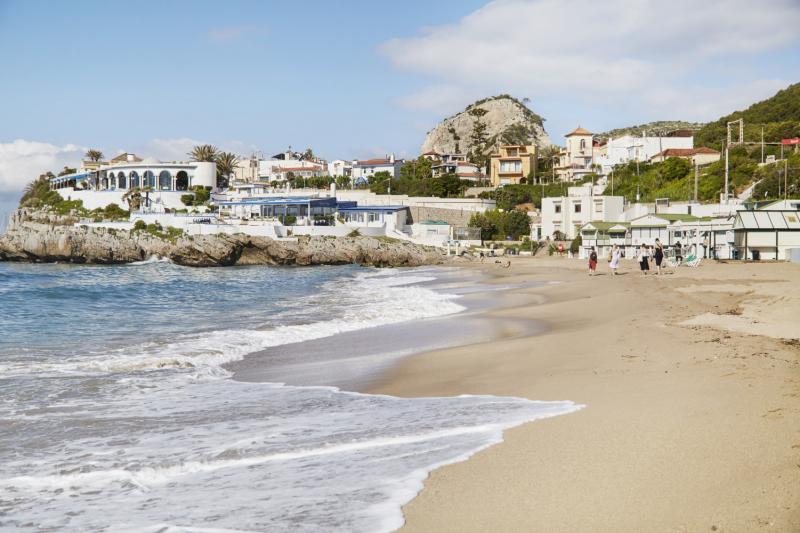 Another great alternative to the urban beaches. Situated in the village of Garraf, this beach has a special charm, highlighted by the unique skyline made up by the 33 cabins for fishermen and former operators of the train line, located on the beach, and the Serra de Coma Roja mountains. Quiet and friendly, it is located 15 minutes by car from Barcelona and has a train station.
See what awaits you...
Surface: 12.135 m2
Length: 380 m
Limits: 
East: La Falconera cliffs
West: Garraf village

Signage
Beach marked out at 200 m.
Bathing flag.
Information panel for facilities on this beach.
Signs prohibiting dogs.
Security beacons in the cliff area.
ISO 14001, EMAS, blue flag and Biosphere Certificate.

First-aid points:
A fixed medical treatment room.
An emergency response chair.

Access to the beach:
Carretera C-31.
Buses:
No.

RENFE (national rail network):
Baixador del Garraf, 25 m away.
Parking:
Blue zone, restricted.

WC:
Two standard sanitary cubicles and one adapted cubicle.

Showers:
18 standard showers and one adapted shower.

Walkways for disabled people:
Yes. And a bath seat.




Center items on the map